Dental Care for a Brighter Smile in Milford, Connecticut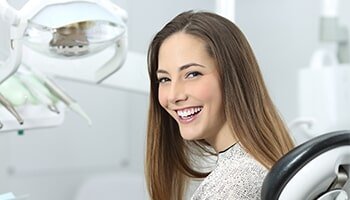 Get the healthy smile you've always wanted at Walter F. Russo DMD. We are committed to providing excellence in comprehensive dental services for the entire family. Our incredible staff makes a trip to the dentist as enjoyable as possible. When you walk in our doors, you become part of our family. When you walk back out, you'll have a bigger, brighter smile. Show your mouth some love when you come in for routine or emergency dental care. We give you the attention and care you deserve. You should be proud of your smile. Our knowledgeable staff, using the latest dental innovations, ensures you get the best possible dental experience and results you can't help but show off.
Cosmetic Dentistry
A beautiful smile is one of the most sought after features in cosmetic medicine. People from all backgrounds and professions want a white, straight smile, and we can help make it a reality.
Whether through minor adjustments or major changes, cosmetic dentistry aims to help people feel good about the way their teeth look. There are many procedures that can improve your teeth and correct issues such as discoloration, chips, gaps, or irregularities. Common options include bonding, veneers, bleaching, reshaping, and crowns. In addition to cosmetic improvements, these procedures can help solve other oral problems as well.
These procedures vary in cost, complexity, and results. After a thorough smile analysis, Dr. Russo will offer you options and help you determine the best procedure and outcome for you. The condition of your teeth is a major factor in finding a treatment, and the same technique that worked for someone else may not be the right one for you.
Gathering all the necessary information before a cosmetic procedure is critical to being happy with the results. In particular, you should find out what the changes will look like, what to expect during treatment, and what kind of upkeep is required afterwards.
Veneers
For most minor dental imperfections, the appearance of your teeth can be improved with the application of dental veneers. Veneers are custom made and are a thin covering of either porcelain or ceramic that look just like your natural teeth, only better, making them a highly effective tool in cosmetic dentistry. A resin is used to bond the veneer directly to the outside of your tooth. This provides a permanent solution to your discolored, damaged or misaligned teeth and greatly enhances your smile.
Crowns
A dental crown or cap is a tooth-shaped cover that is placed over a weakened or damaged tooth to restore its natural appearance and prevent further deterioration. Crowns are used in cases of severely chipped or broken teeth, to cover the exposed area of a tooth following a root canal procedure, to replace a large old filling or for cosmetic reasons. When a filling is not a viable solution to correcting the damage sustained by a tooth, crowns can provide a long-term solution to restoring the function of your teeth and enhancing the appearance of your smile. Crowns can be made of all metal, all porcelain, or a combination of both. Because all crowns are custom made for each patient, it will take 2 appointments to complete. At your first visit, the area is numbed to make you comfortable. Dr. Russo will use a dental hand piece to shape and prepare the tooth so that the crown can properly fit over it. Next, impressions are taken of the prepared tooth. Then, a temporary crown is placed to protect the tooth while the final crown is being made. The impressions are used to fabricate a model of your mouth on which the final crown is made. When your final crown is ready, dental cement is placed into the crown and it is cemented to the prepared tooth. Your tooth is now restored to a healthy and functioning state!
Bridges
A dental bridge consists of an artificial tooth connected to a set of crowns used to fill a gap created by one or more missing teeth. Dr. Russo will create a custom bridge for your mouth that will look and function like your natural teeth. At your first visit, the area is numbed and a dental hand piece is used to prepare the neighboring teeth that will support the bridge. Next, impressions are taken of the prepared teeth and a temporary bridge is placed to protect the teeth. The impressions are used to fabricate a model of your mouth on which the final bridge is made. At the second appointment, the final bridge is cemented and anchored to the neighboring teeth, so you do not have to worry about removing or repositioning the bridge once it is cemented in your mouth. With proper oral hygiene and regular dental exams, bridges and crowns can solve the problems created by missing and damaged teeth and last for years to come.
Bonding / White Fillings
Dental bonding is a great way to repair teeth with minor chips, fractures, or stains where the filling looks invisible! Bonding is a quick and affordable procedure in which a white, composite material is applied to a tooth, thereby fixing signs of damage, then hardened with a special light. It can be considered a more aesthetically pleasing alternative to silver fillings because they don't show. Additionally, the composite material forming dental bonds is a better insulator than the silver used in traditional fillings, and as a consequence your teeth will feel more comfortable. If you are looking for a reliable and affordable cosmetic solution to your damaged teeth, talk to us about dental bonding.
Bleaching / Teeth Whitening
One of the most common desires patients have is whiter teeth. When considering your options it is important to consult us to make sure you have all the facts and understand how they may affect your teeth and mouth and which bleaching delivery system will best fit your needs.
Many people think the discoloring of teeth is due to plaque or buildup. Yet, a variety of factors can affect the color of your teeth including food, tea, coffee, tobacco, age, and medications. Understanding what is causing the discoloration is important to properly whitening your teeth.
Bleach does not work on all teeth, so it is necessary to consult us before any treatment. Whitening will not be effective on veneers, crowns (caps), white or silver fillings or if the color is caused by medications or injury.
Whitening toothpastes and mouthwashes are not effective in changing the true color of your teeth, they only remove stains on the surface of your teeth. To truly whiten your natural tooth color, we recommend using bleaching trays at home. When you bleach at home, YOU are in the driver's seat and decide just how white you want to go. Most bleaching can be completed within 5-10 applications.
Teeth whitening products use either UV light in-office treatments which can weaken and dehydrate the tooth structure, OR topical bleaches that are safe and effective (either hydrogen peroxide or carbamide peroxide) that placed in Trays. These topical bleaches break stains into smaller pieces, making them harder to see so your teeth are brighter. We prefer to offer a take home remedy to use at your own convenience.
Preventative Care / Teeth Cleanings
Dr. Russo and his hygienists know and understand the importance of good preventive care. This begins with regularly scheduled teeth cleaning appointments. We recommend having your teeth cleaned at least every 6 months. Some people even need it as frequently as every 3 months. Along with professional cleanings, it is imperative that you brush and floss your teeth properly twice each and every day.
Good dental preventive care is very important to ensure a healthy mouth, including your gums and teeth. During the cleaning, we scale (remove) plaque and tartar that may have built up on your teeth. We also clean underneath your gums, where you can't reach with routine brushing at home. This is necessary to prevent gum disease. After the cleaning, we will polish your teeth so that they shine. Sometimes we also apply fluoride to your teeth.
During your appointment, we perform a thorough examination to make sure your mouth is healthy. We look for problems in order to catch them early. We also look at any artificial teeth you have to make sure they are holding up. During your appointment, we also go over home care techniques and discuss products available on the market to help keep your mouth healthy.
Implant Dentistry
Dental implants are manufactured root replacements. Each tooth has a root that fixes it firmly in the mouth and jaw. An implant completely replaces your natural roots in order to provide an anchor for the replacement tooth.
Dental implants are not visible to others. Dental implants are a permanent solution to bad or missing teeth. The implants start with a metal root surgically placed into the jaw that holds a natural prosthetic tooth replacement that does not rely on or deteriorate neighboring teeth.
Once the implant is complete, Dr. Russo will create the crown that attaches to the implant post. The best part is that dental implants are more comfortable than some other oral health solutions, because they are permanent. With proper care, dental implants have the capacity to last a lifetime. To care for dental implants and the rest of your teeth, it's vital to be consistent with a brushing and flossing / waterpik routine. Using an anti-bacterial mouthwash can also help ensure lasting oral health. Finally, it's crucial to have routine dental visits according to what Dr. Russo recommends.
Root Canals
Root canal treatment (also called endodontic therapy) is necessary when a cavity reaches all the way to the pulp (nerve). Sometimes deep restorations or trauma to a tooth may cause the nerve to be damaged or die and then it needs a root canal. Once this occurs, the pulp becomes infected, which can even extend through the root tip and begin to eat away at the surrounding bone (this is an abscess). By the time the pulp is infected it must be treated and cannot heal on its own. It can even weaken the entire immune system. This is dangerous, not to mention very painful. Symptoms that the pulp has become infected may include sensitivity to hot/cold or sweets, pain, swelling, pressure and a bad taste in the mouth. Sometimes, however, no symptoms are apparent and the person is unaware of any problem until a checkup.
A root canal is then performed to clean out the infected tooth pulp and disinfect the canals of the tooth. The only other treatment would be to extract the tooth. Once the infection is resolved, the canals are filled in to prevent any further infection. Usually a core build-up and crown is recommended for restoring a tooth that has had root canal therapy.
Extractions
An extraction is performed to remove a tooth, whether because of decay, crowding, damage, or trauma. When extractions are required, the area around the tooth will be numbed and Dr. Russo will remove the tooth. A small amount of bleeding is normal, as your mouth will replace the removed tooth root by forming a blood clot in the area.
Caring for your mouth after an extraction is very important. We will outline how you should care for the area of the extraction. It is important to allow your mouth time to heal, so avoid activities like smoking, drinking through a straw, or eating foods that may aggravate the area.
If you experience any complications, like excessive swelling, be sure to call us right away. Dr. Russo may also recommend pain medication when appropriate. While you can care for your other teeth as normal, be careful not to clean the teeth next to the extraction.
If you are experiencing pain or discomfort, visit our office today so we can determine if you need an extraction. Delaying a consultation can worsen the situation and require longer recovery times.
Replacing missing teeth is also very important in preventing shifting of your remaining teeth. These shifts change your bite and potentially cause pain in your mouth and jaw joint. Dr. Russo can discuss these concerns and offer different options to consider.
Examination
Dental exams are important to ensure that your teeth and gums stay healthy. While regularly brushing and cleaning are vital to your overall well being, they alone are not a comprehensive solution for all aspects of your dental health. By scheduling routine examinations with Dr. Russo, you are allowing him to get an overall picture of your current state and spot any potential causes for disease. It is recommended to schedule an exam at least once a year.
Sealants
Dental sealant is a plastic coating that is painted overtop of your permanent molars. It attaches to the teeth, smoothing the rough edges, depressions, and grooves that are typically found on molar chewing surfaces. It gives your teeth a protective coating, helping to prevent tooth decay or cavities. Sealants are more commonly placed on children but can be utilized on adults as well.
The sealant procedure involves painting or brushing on a tooth-colored material into the deep grooves and pits of the back teeth. Then Dr. Russo will shine a light to harden the material. Sealants create an environment that helps repel tooth decay and is easier to keep clean.
Removable Partials and Dentures
Dentures are a removable replacement option for all or some of your missing teeth and are a common service that we provide for our patients. Dentures are often used when dental implants are not an option. We provide both complete full dentures (for when all teeth are missing) and partial dentures (for when some teeth are missing). A partial denture is a removable alternative to a bridge to replace multiple missing teeth in your mouth. Your natural teeth act as an anchor for the partial denture to stay in place. There are both conventional and immediate dentures. Immediate dentures are made in advance and can be positioned as soon as the teeth are removed.Conventional dentures are made after the teeth have been removed and are placed 8 to 12 weeks after removal. Dentures are custom-made specifically for each patient. A dental impression is taken of your mouth and is sent to a dental laboratory for your denture to be made. Dr. Russo will custom-fit your dentures for your mouth and consult with you on how to properly clean and maintain your dentures.
Denture Relines
Denture relines are done to ensure your dentures continue to fit properly. Over time your mouth changes. The bone and tissue change shape, especially when you lose teeth. This means your dentures will not always fit comfortably. They may pinch and cause sores. Dentures that don't fit can also wear down the bones and soft tissue in your mouth. They can cause more damage if you don't have them regularly examined and adjusted (if needed). You may get infections more easily with ill-fitting dentures.
When Dr. Russo does denture relines, he resurfaces the side of your dentures that comes in contact with your gums. This is done so you don't get any sores in your mouth, which can be painful and are definitely unnecessary. We want you to be proud of your smile while still being quite comfortable!
Nightguards / Sports Guards
Bruxism, or grinding of the teeth, is quite common for people during their sleep. While some people will grind their teeth during the day, this is less worrisome. Excessive grinding at night however, will damage enamel, wear down teeth, cause jaw pain, and irritate gums. To treat bruxism, we recommend using dental night guards. This is an effective way to prevent this damage. Similar to mouth guards for athletes, these will create a padding between your upper and lower teeth, thereby reducing the stress from any grinding. Our night guards are custom fitted to maximize comfort and can last up to 10 years.
Custom sports guards can be made for kids to wear while playing their sport in order to protect their teeth and prevent chipped/broken or lost teeth due to accidents.
Emergency Services
Emergencies can happen at any time. When your teeth are in pain, you'll want dental care fast. Always have our number readily available in the case of an emergency. This could mean the difference between losing or saving a tooth.
If you lose a permanent tooth, try to keep it moist while you get to the dentist. You can try placing it back in the socket if that is not painful, or between your cheek and gums. If that is not possible, placing it in milk can help improve the chances of saving the tooth. If you crack a tooth or bite your tongue or lip, rinse your mouth with warm salt water and apply a cold compress to reduce swelling.
For toothaches or objects stuck in your mouth, gently use floss to clean the area and remove any debris. Do not put aspirin on your teeth or gums and never use a sharp object on your teeth.
Wearing a mouthguard during physical activity will help protect your teeth. And avoid chewing foods like ice, popcorn kernels, or hard candy to reduce the chances of cracking a tooth. Also, refrain from cutting or tearing objects with your teeth. If you experience a toothache or discomfort in your mouth, contact us immediately.